While the Centers for Disease Control and Prevention (CDC) have suggested providing priority COVID-19 vaccination doses to tradesmen and tradeswomen, Ohio and other states are pushing construction workers down the priority list.
On Dec. 20, the CDC released a presentation that outlines when they recommend certain age groups and occupations should receive the COVID-19 vaccine.
The CDC has recommended tradesmen and tradeswomen be in the third phase of essential workers, who receive the vaccine.
As for the state of Ohio, it remains unclear when exactly the state's construction workers will have access to the vaccine.
The Ohio Department of Health has released strategic plans for the vaccine rollout, but these plans are fluid and will change as more vaccines are approved and available.
Unfortunately, the construction industry is not identified in the current Ohio Department of Health plan as a high priority.
Speaking on the labor-focused America's Work Force Union Podcast, Ohio State Building and Construction Trades Council Secretary-Treasurer Mike Knisley said he believes Ohio's roughly 100,000 union tradesmen and tradeswomen will be able to get a COVID-19 vaccine just after the 1C group of recipients.
While front line workers throughout the state have refused to get the vaccine, Knisley does not anticipate a similar reaction from Ohio's union construction workforce.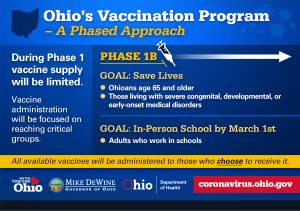 "We are embracing and looking forward to the vaccine," Knisley said. "Our people have always been around science and math, so we are not deniers."
He went on to say he is confident the union construction industry will embrace the vaccine because of their dedication to safety. Being some of the first workers back in the field, tradesmen and tradeswomen embraced masking and increased separation on jobsites.
The high level of compliance to masking and social distancing may be what has kept infection numbers down in the union construction industry.
Most building trades unions have continued to function remotely, holding meetings and educating apprentices virtually, to reduce potential spread and remain within the guidelines set forth by Gov. DeWine.
Currently, members of Sheet Metal Workers Local 24 members in Dayton and Cincinnati regions, who are part of the Indiana State Council of Roofers Health and Welfare Plan will be covered for no-cost COVID-19 vaccinations that have emergency use authorization (EUA) or are approved by the Food and Drug Administration (FDA) and recommended by the CDC. It will not matter if the vaccine administered to the covered person occurs in a medical provider setting or retail pharmacy for the duration of the public health emergency.
Any members with questions regarding this or any other plan benefit are asked to call the benefits office at 1-800-552-6550.